Member
Confirmed GSA Customer
Joined

Oct 26, 2020
Messages

77
Hi all
following question:
Given is a well-known situation like this: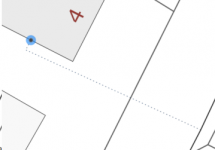 House Connect with a tube, connected to the main tube within the street.
Right on the house connects Position, there is another dataset "disruption". The disruptions factual data says, that there was a Problem onto the main tube within the street, but that Information is in free text, so that it is not really helpfull.
My target is to count, how many disruptions are related to that main tube, so I have to build a relation between main tube and disruption.
Is there any (simple) way to define that relation? (keep in mind, that there is the possibility of more than one disruption per main tube).
in simple words: I'd like to follow automatically the way Disruption.position > House Connect.Position > house connect.curve > main tube.curve to find the tube within the street....